| | |
| --- | --- |
| Deluge, Destruction and Drax Part 2 | |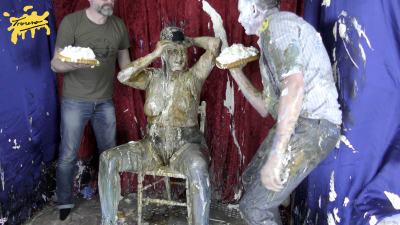 Starring the following model:
"GD receives a heavy mixed mess destruction from her number 1 fan, Drax"
| | |
| --- | --- |
| File count: | 2 |
| Total size: | 1.28 GB |
| Total runtime: | 20 mins |
| Date added: | 3/01/18 |
| Year produced: | 2018 |
| Views: | 2396 |
| Scene ID: | 27413 |

$12.99



Following on from the her encounter with eggs, paint, treacle (plus, of course, the multiple sweet and savoury deluge)--Ginger's previous sartorial elegance has been downgraded to somewhat sticky, soggy and bedraggled. But there's much more to come!

With her covering in yellow and pink feathers fresh in our minds it's now the turn of jam and the welcome appearance of GD's rather peachy behind in those seamless tights of hers and a few tins of beans and Aphabetti-Spaghetti (the intended joke hindered by Drax rummaging in vain for the letters to spell his own name--he'll return to that later...)

The onslaught continues with copious amounts of sloshy vegetable oil--blue poster paint and the rest of the white emulsion. Needless to say the parasol's scant protection is offered up yet again against these and many other mucky foes.

Ginger eventually removes her ruined (and now very heavy) corset and goes topless for the final leg.

Further highlights include many buckets of various goos and gunges including thick, red porridge, liquid clay and pasta. The remains of the bucket of thick whipped cream used to make the pies--and eventually the pies themselves--to the bum and face. Drax also removes GD's opera gloves and wrings them out over her head.

There's the bowler hat 'gag' full of the hideously greasy grey slops from the floor (now several inches deep). By this point GD is absolutely subsumed by sludge but remains characteristically chipper.

And an epic double team with Mr Trouso for the final sandwich and a vigourous rub down. There are no hard feelings as GingerDubberdee declares she's had 'just the best time' being wammed by her number one fan!