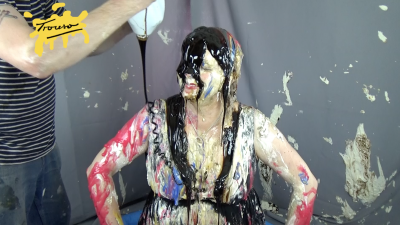 Starring the following model:
"Producer's wife gets sploshed up in eveningwear"
| | |
| --- | --- |
| File count: | 5 |
| Total size: | 1.87 GB |
| Total runtime: | 31 mins, 38 secs |
| Date added: | 5/28/17 |
| Year produced: | 2017 |
| Views: | 5606 |
| Scene ID: | 22881 |

$14.99



Mrs Trouso is all done up to the nines in black evening dress, tights, heels, full hair, make-up and jewellery. Including a clean intro (by popular request), this four reel scene takes Ginger Dubberdee and her lovely cleavage on a journey beginning with a generous pie sandwich and ending up in a paddling pool full of multi-coloured gunk.

Dubberdee endures pies to the face, head and bum and even sits on one of Trouso's 'experimental' cakes. Her evening dress and heels are covered and soaked in pie cream, gunge and black treacle. As if that wasn't enough, she also gets the customary 'boobie pies' in the form of a pair of giant flans (courtesy of her husband this time). And her lovely hair is completely fucked up by another very thorough shampoo with all sorts of goo--including dairy cream, 'glue' and a new, mystery black substance. There's lot's of smearing and rubbing and plenty of the usual bad language, (loud!) yelping and backchat as Trouso ensures his wife is utterly saturated in gunk. His once lovely missus ends up rolling over in the slop pool in just her heels and tights.

Classic messy fun. Mr Trouso appears in shot--but only to dole out the messy goodies to his wife. The WAM action focusses firmly on the long suffering Dubberdee and her reactions. Ginger Dubberdee genuinely wears her own clothes and accessories in the clip and doesn't know exactly what's going to happen until she walks on set! Fully-clothed with some topless nudity.
Includes these files:
luvverley-and-gooey-clean-intro.mov

1920x1080

8,163 Kbps

148.23 MB

2.5 minutes
luvverley-and-gooey-pt-1.mov

1920x1080

8,442 Kbps

471.01 MB

7.8 minutes
luvverley-and-gooey-pt-2.mov

1920x1080

8,562 Kbps

464.64 MB

7.6 minutes
luvverley-and-gooey-pt-3.mov

1920x1080

8,437 Kbps

454.59 MB

7.5 minutes
luvverley-and-gooey-pt-4.mov

1920x1080

8,382 Kbps

373.01 MB

6.2 minutes

Report