| | |
| --- | --- |
| Luvverley Dubberdee Part 1 | |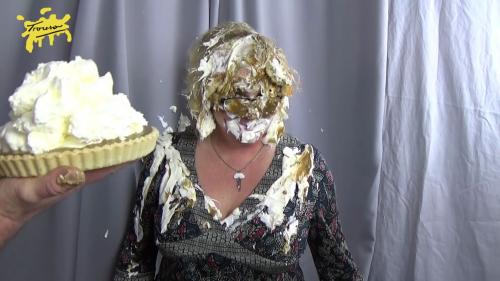 Starring the following model:
"Ginger Dubberdee is pasted with heavy cream pies."
Part 1 of 'Luvverley Dubberdee--Heavy Cream and Margarine'. Blonde Ginger takes a dozen or so heavy cream pies and cakes in the face and body wearing an expensive 100% silk print dress, tights and red heels.
Banter and swearing--as well as the usual reluctant but good humoured yelps and squeals--as the gorgeous bespectacled milf is gradually plastered with thick cream and other pastry delights.
Some shots (but not all) are repeated from a different angle. Trouso appears in frame from time to time delivering the pies but the action is focussed on Ginger. This clip is fully-clothed. Includes a teaser for part 2.
| | |
| --- | --- |
| File count: | 2 |
| Total size: | 727.37 MB |
| Total runtime: | 10 mins, 33 secs |
| Date added: | 11/19/16 |
| Year produced: | 2016 |
| Reviews: | 1 |
| Views: | 5421 |
| Scene ID: | 20426 |

$8.99