| | |
| --- | --- |
| Luvverley Dubberdee Part 2 | |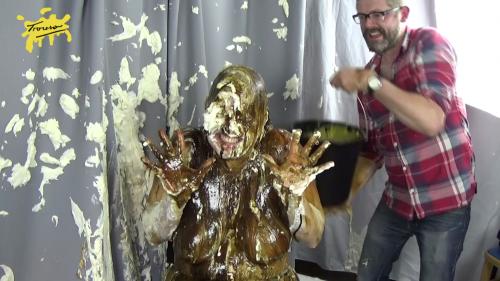 Starring the following model:
"Ginger's trashing continues with more pies and lashings of greasy gunge!"
| | |
| --- | --- |
| File count: | 3 |
| Total size: | 1.72 GB |
| Total runtime: | 25 mins, 26 secs |
| Date added: | 11/25/16 |
| Year produced: | 2016 |
| Reviews: | 1 |
| Views: | 5013 |
| Scene ID: | 20498 |

$8.99



Luvverley Dubberdee Part Two continues from the same session as scene 1 (available separately).

The messy action continues as Ginger Dubberdee (dress and bra now removed) crushes two big cream flans against her own sizeable 36FF boobs and receives a very runny trifle to the top of the head. Trouso smears the copious amounts of cream all over her hair and upper body--to GD's protests.

Next it's warm black treacle over the head (which she smears into her big supple boobs) followed by a pie (clumsily) applied to her face. But don't worry, tenacious Trouso scoops up handfuls of glop from the floor and rubs it in--to G's further long suffering protests.

Reel 2--And out comes the 2 kg of margarine in a bowl. After refusing at first, GD agrees to allow it to be used (see trailer!). It's a slippery customer though and has to be retrieved from the floor and squashed very firmly onto her crowning glory--where she sits and poses with it mashed onto the top of her head--before it eventually falls off again! Nevermind--there's no time to lose--as Trouso empties a 5 gallon bucket full of super thick Nastrosol gunge over her. This is warm too and she likes it!

Trouso makes sure every last slimy bit is out of the bucket and sloshes and slaps the remainder over GD's body before beginning a nice (for him!) gungy shampoo, ensuring Everything is rubbed deep into the roots of the hair and scalp!

Finally, it's not the last we've seen of the margarine either as--in this final reel--GD (still in her black tights and once lovely red heels) bends forward once again as her man Trouso twice scrapes up slops from the pool into a bowl and smears all the horrifically greasy gunk all over her bum and legs.

Finally, a few seconds of 'out takes' at the end--featuring Trouso cradling his woman's messy boobs, then attempting to squeeze mess out of GD's hair, plus a close up from camera two of the start of the clean up: Ginger, bent forward, totally slicked, pulls her fingers through her hair which is totally saturated and exclaims 'dear God!' as she realises the enormity of the clean up!

Trouso appears in shot from time to time--but stays clean--and the action is focussed on Ginger. Running time includes some shots being repeated at different angles. Total scene runs over 3 files.