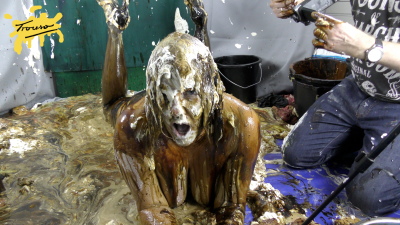 Starring the following model:
"A journey from pristine clean to sticky, gooey and messy for Mrs Trouso!"
| | |
| --- | --- |
| File count: | 3 |
| Total size: | 2 GB |
| Total runtime: | 27 mins, 51 secs |
| Date added: | 11/05/17 |
| Views: | 5606 |
| Scene ID: | 25143 |

$14.99



The long suffering Mrs Trouso aka Ginger Dubberdee is dressed up to the Nines in a gorgeous dusky red dress, stockings, beautiful emerald lingerie (actually worn at their wedding) and brand new t-bar heels. But is she going out to dinner? To a party? An interview? No, she's spent 2 hours getting ready to endure yet another messy trashing at the hands of her husband.

Reel 1

Opens with a big, thick real cream flan to the face, then her head is enveloped by a generous pie sandwich leaving her soft, luscious, wavy hair smeared and dredged with greasy cream. More dairy cream flans smushed and thrown to the face, head, shoes, bum, back--not to mention a giant pair of them squashed into to her heaving bosoms.

Reel 2

As if being slicked all over in thick cream wasn't enough, she now endures a dousing in warm, black treacle, thick yellow and brown gunge-pudding. Mrs Trouso removes her ruined dress before receiving a liberal coating in dastardly, pitch-black, fake 'mud'

Reel 3

Now topless (but still in her knickers, stockings and shoes) it's time for a covering in 4.5 kg of spaghetti hoops mixed with *black treacle? (*to cool them down). She's thoroughly sticky, greasy and brown now and is handed another huge pair of thick, cream flans--which she of course smacks right into her own glossy pair. Just a dusting in icing sugar to finish off

or is it? She's not free to clean up until she's got down into the sloppy mixture--where poor Mrs Trouso gets one final pie in the face (and all over her head) and a trickled coating of treacle rubbed into her back. She then flips over, reclining in all the hideous gunk and reluctantly performs 'glop angels'

The usual priceless banter is exchanged between this genuine couple. Trouso appears frequently in shot but doesn't get messy--the focus being on the real star of the show--Mrs Trouso aka Ginger Dubberdee who gets absolutely trashed with food wearing her own clothes.