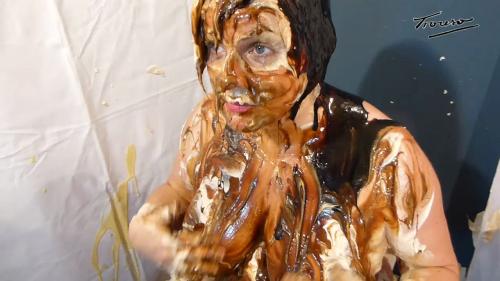 Starring the following model:
"Trouso gives his nicely dressed GF, Ginger, a good sploshing!"
| | |
| --- | --- |
| File count: | 2 |
| Total size: | 399.4 MB |
| Total runtime: | 14 mins, 10 secs |
| Date added: | 11/30/15 |
| Year produced: | 2015 |
| Product ID: | RT-GD001 |
| Reviews: | 1 |
| Views: | 11099 |
| Scene ID: | 16230 |

$7.99



For the first time on video (but far from the first time ever), buxom Brit, Ginger Dubberdee, gets her latest messing-up from boyfriend, Trouso, whilst beautifully made up and wearing her very own clothes. This time it's a lovely dark blue patterned dress, red heels and her spectacles that'll end up in a heap of slop on the floor. Enjoy her genuine reactions throughout as she anticipates--and takes--a couple of real cream and angel delight flans in the face and hair (and one under the arm!) followed by a gentle dousing in some nice warm custard, then it's a little drizzle with some syrup. Up on the table next so we can see her shapely behind and heels; a small pastry is applied directly, then sheer panties are revealed beneath the dress whereupon a big flan is delivered and smeared all over her legs and shoes. Next, to her raucous (but amused disapproval) her back and bum are sploshed with a bowl of spaghetti hoops in tomato sauce. Back in the chair and topless now ready for her to smush a pair of heaping cream and jam pies into her own bare breasts followed by a slick of black treacle. After singing 'Happy Birthday' to her 'cXXty' boyfriend it's all finished off ('complaints' abound) with a 'nice' coating of greasy porridge (oh, and a bit more black treacle!).

Authentic Wamming from a real couple. Please note: Trouso appears in frame from time to time as a necessary part of the action but does not get messy.